Last time I wrote about how to pick keywords (available here) and this time out it is all about how your site ranks for those keywords.
SERP - Why Does It Matter?
SERP is a metric or KPI for understanding to what degree your website is optimised for use by the search engines for certain keywords or keyphrases. If your site appears on page 1 for a key phrase it means the search engines regard the site as having highly relevant, high quality content for that particular phrase, that's great but getting a SERP position on page one is not the endgame. Getting to page one is just part of the battle, the ultimate objective is not just to get top spot in the SERPs, the reason for doing it in the first place is to improve your businesses turnover and profitability. Achieving a good SERP position then is a means to an end.
Click Through Rates (CTR)
The next metric to look at after SERP position is click through rate (CTR) this is where people see your site listing in the search results, click on your link and visit your website. Again it is not an end in itself but it is another step closer to achieving a sale. If we are on page 1 in the SERPs we expect our CTR to be high. Research from Optify, based on data from Google US, has shown that improving SERP position from page 2 to page 1 can have the effect of tripling the number of organic visits a website will achieve and that being ranked first in Google is worth the equivalent of all the traffic for the sites placed from 2nd to 5th place.
With an average click through rate of 37% first place gets the lion's share of clicks.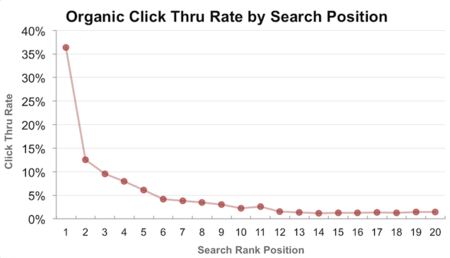 The click through rate increases as your site moves up the rankings, first place is the best place and page one is much better than page two but there are other factors that could influence your site traffic such as improved PR. A very small percentage of searchers ever get to page two and before they reach the bottom of page two most people have changed their search terms if they have not found what they are looking for so your target should always be page 1 and once you are there, position 1.
Long Tail Terms
If you manage to achieve a page one listing but the top three places are proving elusive then you should target long tail key phrase rather than the top search terms. This is because, according to Optify's research, although the top key phrases have a better click through rate than the long tail key phrases for the site in first place (32% v 25%), long tail key phrases achieve better overall click through rates for page one than the top key phrases do (9% versus 4.6%). Nevertheless first page rank for a top key phrase will probably yield more traffic than first position for a long tail key phrase.
Conversions - The End Of The Rainbow
Many people believe there is a pot of gold at the end of the rainbow, I can't tell you as I have never found it! However what we are looking for at the end of the SEO rainbow is conversions, i.e. real customers & spondoolies. Therefore in order to understand whether or not we are succeeding with SEO we need to be able to identify the customers that we gained through our optimised website. If you have a webstore then you will know exactly what sales you are achieving via the web otherwise an online contact form or livechat option can help you to capture customer enquiries.
There are numerous web analytics providers that can provide a mountain of information on who has visited your website, how they found it, which pages they visited plus lots more information. I will not cover analytics in detail here but Google Analytics is probably the most popular and is free so if you want to start analysing your site traffic head over there, setup an account and they will provide simple instructions on how to implement it.
Now you know how to pick your keywords and how to monitor your SEO, next time it is on to the changes you should consider making to your website to improve your SERP position.